Are you safe at work? New tool helps educators track, report COVID-19 cases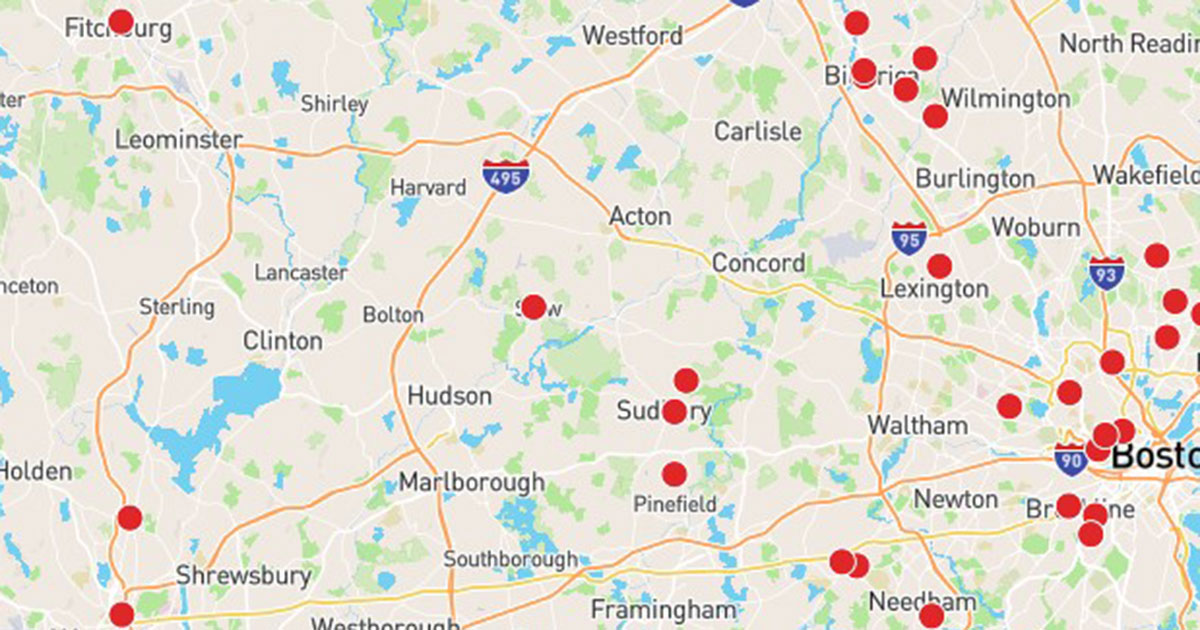 A new tracking tool is now available to help educators document cases of COVID-19 at work.
The tracker, available at stopthespread.massteacher.org, allows educators to:
Search for known and suspected cases of COVID-19 at their public school, college or workplace
Report on safety conditions at their school, college or worksite
Share the experience of working in public education during the coronavirus pandemic
The tracker, developed by the MTA and AFT Massachusetts, is designed to give local associations, members and their families useful information as well as hold our elected officials accountable.
How to Use the COVID-19 Tracker
Viewing Information
The site defaults to displaying all cases reported in Massachusetts.
To view reports in a specific community, use the Zoom In and Zoom Out buttons on the map.
Clicking on an individual red dot marker on the map will bring up the reports associated with that location.
Use the search bar on the map to find all reports specific to your worksite.
Click Show Filters on the right-hand side of the page to return specific report results by Incident Type (positive cases that have been verified with evidence, or deaths) or Report Type (COVID-19, Safety, or Story).
Reporting Information
There are three types of reports available on the site.
COVID-19 Report: Use to report a positive case of COVID-19 at your worksite.

Before you file a new report, please search the site for reports at your worksite to determine whether the information has already been reported.

Please use this report type only to file positive COVID-19 cases. Reports on safety conditions, district policies, employee experience, etc., should be filed using the Safety or Story Report options.

The COVID-19 report allows you to upload evidence in the form of i

m

a

g

es, such as an em

ail notice

fr

o

m

your

employer,

o

r l

i

nks

t

o ne

w

s

r

ep

o

r

t

s.

Whenever possible, please provide this evidence, as it is what enables staff to verify the report and update the positive case count on the site. Please include identifying information from the district/administrator (e.g., district's letterhead or superintendent's signature) but redact any personal identifying information (e.g., your name/email address, name of an individual tested for COVID-19, etc.).

Safety Report: Use to report information about safety conditions at your worksite, including violations such as lack of PPE or social distancing.


Safety reports are immediately published on the site.

Story Report: Use to share your own personal story about

w

o

r

king

du

r

i

n

g

t

h

e

p

a

n

d

em

i

c.

This report type allows you to upload images or video links.

Story Reports are reviewed prior to being published on the site.
How-to Video: New COVID-19 Tracker
FAQ About the Stop the Spread Mass. Tracker

Our new COVID-19 tracker allows users to report COVID-19 related information,  including known or suspected cases and safety concerns, as well as share stories about what it is like to work in a public school or college during the pandemic.

Can I report something anonymously?

Yes, of course. We understand the real fear of retaliation against employees. You can submit reports anonymously, though you have the option to provide contact information if you would like a union representative to follow up with you. If you do choose to provide contact information we will keep your information private. It will not be displayed on the website.

 

Why are no cases showing in my district or on my campus or worksite?

I submitted a COVID-19 report. Why is it not showing in the positive case count on the map?

What should I do if I can't find my worksite on the site?

How can I report a bug?